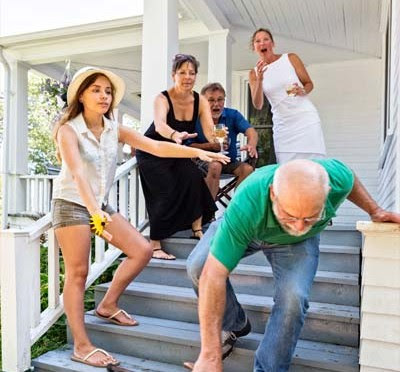 Occupiers Liability
If you have been injured on someone else's property and you feel the property owner or operator could have made the premises safer, you have the right to file a claim and take legal action against them.
Occupiers liability laws hold operators and property owners responsible for any accidents that occur or injuries that are sustained on their property. Whilst the most common occupiers liability lawsuits involving slip and fall accidents, there are numerous other forms of property liability for which a property owner or operator could be charged.
What is an Occupiers liability Claim?
The law requires property owners to follow certain obligations and are required to take adequate measures to keep their property safe for authorised and unauthorised visitors.
If you or someone you love has been injured or killed in an accident that occurred on someone else's property and you feel the owner/operator of that property could have made the premises safer, you have the right to take legal action.
Types of Occupiers liability Claims
Given the fact that most people spend a lot of time on property owned or operated by others, the likelihood that an accident/injury occurs in shopping malls, public places, stores, amusement parks and schools is pretty high.
Occupiers liability claims include, but are not limited to;
Slipping on wet or icy surfaces
Injuries sustained from animals (such as dog bites)
Tripping over uneven flooring
Accidents on construction sites
Lead poisoning/exposure to hazardous material
Fires and explosions
Swimming pool injuries
Inadequate security
No clear warning announcing a potentially unsafe condition such as wet floors and icy sidewalks
Negligence on the part of the property owner, operator or any other third party
How we can help?
One of the primary elements of occupiers liability claim is proving that the accident or injury has occurred due to the negligence of the property owner and that they could have prevented an accident or incident on their grounds through better safety measures.
As reputed and established occupiers liability claims solicitors, we have successfully represented our clients and won the claim for them. At Stanley House Solicitors, our occupiers liability lawyers have experience with;
Slip and Trip accident cases
Staircase accident cases
Inadequate security accident cases
If you think you have a case, or you require further assistance with your occupiers liability claim or any personal injury claims, contact us right away.
Preparing for a Occupiers liability Claim
Your personal injury solicitor will want to investigate your case in depth in order to fully understand the impact that the injury you received on someone else's property has had on your life and to ensure that any compensation you receive is sufficient to cover your future needs. This may include;
Lost wages
Medical expenses
Home and lifestyle modification
Emotional suffering and physical injuries
Preparing for occupiers liability claim may take time as the process involves taking detailed statements, obtaining copies of your medical reports and seeking expert opinion. Ensuring that these are done properly with due diligence may take some time.
The process will improve your chances of winning the claim. The lengthy process should not discourage you from making aoccupiers liability claim if you need to. Your Stanley house solicitors will arrange this for you, so you don't need to worry.